Roller Shutters
At Autoroll, we are proud to sell our range of garage doors and roller shutters for residential and commercial environments directly through our website. In this handy online catalogue, you can browse through various item categories, browsing the details of our aluminium insulated, steel, three phase and fire rated external roller doors. All products sold at Autoroll can be customised to suit your needs, whether you require a garage door of certain dimensions or a galvanised roller shutter of a particular colour to match your property. We even sell spares and accessories for future repairs and modifications as well.
Made to measure electric roller shutters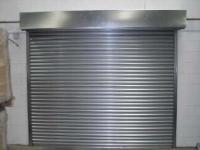 Made to measure, electrically operated roller shutters.