Insulated Roller Garage Doors by Autoroll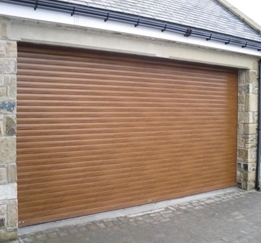 Autotherm premium remote controlled roller garage doors are a high end product which we are able to offer at a very competitive price. We are continually developing our doors to make them one of the most advanced insulated roller garage doors on the market. These doors are easy to fit for a competent DIY person and we also have a installation video and offer a telephone technical back up service. We offer a fitting service in the North East of England only.
Our Autotherm insulated roller garage doors are top of the line, and are continually being developed to meet the needs of our customers. They're custom made by our fabricators to ensure they fit each space perfectly, and are easy to install and maintain. With many attractive finishes available, it's easy to get the look that you want.
Custom made
Our insulated roller garage doors are custom made for each garage opening and because of the way they are constructed, this allows you to maximize your drive-through height and width. You can order online by simply filling out a short survey form, and we can manufacture garage doors to fit tall or extra wide openings, or even arches.
We can manufacture the door to suit different installation options, thus allowing doors to be fitted in the more unconventional places. Simply give us a call and we will be able to discuss your specific needs.
Easy installation
Although our Autotherm garage doors are operated by remote, they aren't complex to install. If you're a competent DIY enthusiast, then you should be able to manage, and there's an installation video available, with support available over the phone if you have any problems. However, we accept no responsability for damage or injury caused during installation or for badly installed doors. If you live in the North East area, then our team can install your doors. Otherwise, we deliver across the UK, using our own vehicle fleet to ensure doors arrive in perfect condition.
Security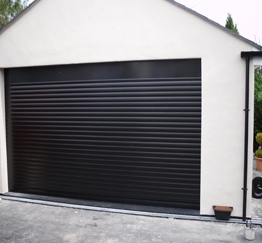 Fitting insulated roller garage doors is a great way to protect your home and possessions, and the rolling code technology of the remote unit ensures that intruders can't enter. These doors are self locking and are locked in place by anti-lift geometry locking straps.
Safety
Autotherm garage doors have a bottom rail safety edge which automatically detects any obstructions and  the door will automatically stop and then return to the open position. The control unit also has an anti-entrapment in the 'up' direction, removing the need to fit a full cover box to the door.
Finishes
This door is very low maintenance and comes in a choice of colours, from crisp white and cream, to clear, bright colours that look great on a contemporary property. We also offer garage doors with textured woodgrain finishes including rosewood, and golden oak, for a rustic, classic finish.
Insulated roller garage doors are a great way to keep your car or belongings safe and secure, and they take up minimal space in your garage. With many different styles available, you can easily find a garage door that co-ordinates with your home, and the remote control means it can be controlled at the touch of a button.
You can order garage doors online by filling in an  online quote form to help you get the right fit, or simply pick up the phone and our team will be able to advise you further.
Colours Available